The International Cake Exploration Societe' (ICES) Convention is just around the corner and the Marvelous Molds® team can't wait to spend time catching up with our friends and customers.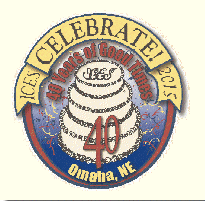 This year's event will take place at the CenturyLink Center in Omaha, Nebraska from July 30th to August 2nd. To commemorate its 40th year, ICES will be accepting entries for a judged show cake with up to $7,500 in prizes and cash awarded to the winners. To learn more about the ICES Convention, please visit their website.
In case you've never attended an ICES Convention, we'd love to tell you what you've been missing! Each year, ICES unites talented cake artists to teach the skills of the trade, offers testing to become a Certified Master Sugar Artist, boasts a large cake gallery featuring beautiful cakes from all skill level cake decorators and organizes a huge room of vendors who introduce innovative new products and offer free live demonstrations. Imagine being in a cake fantasy land surrounded by cake fanatics like yourself!
In fact, our own Chef Dominic Palazzolo will be offering a demonstration featuring brand new products that won't be available on our website until after the show! Learn how to make an ocean theme cake, complete with a stunning isomalt bottle containing ships. The Ships in a Bottle-Coastal Seashell Cake class will take place on Thursday, July 30th at 2:30 in room 204. To register for this demonstration, please visit the registration page.
Be sure to stop by our booths 209 and 308 in the vendor room to see our exciting, new silicone molds, free demonstrations and show specials. We will be joined by talented cake artist, Carolina Lara of Dulce Bella and Theresa Happe, Director of Marketing, Marvelous Molds®, Executive Editor, Edible Artists Network and owner of Cake-Decorating-Corner.com and CakesWeBake.com.