Online and in stores worldwide, cake decorators and crafters have been buying Marvelous Molds for years. During that time, we've heard from you: Green means Marvelous Molds! You know when you buy authentic, detailed, U.S. made molds from us, they're going to be green. But for a little while now, we've been rolling out something new: Authentic Marvelous Molds aren't just green anymore – now they're clear, too! And so we're proud to announce that we are formally introducing our new "Clearly the Best" molds.
Through hard work and lots of testing, we've found a new silicone to make our top-of-the-line food grade molds. This new material has been thoroughly tested to be food safe, just like our old opaque material. In addition, we feel that it provides many benefits over the old material!
New Clear Green Molds from Marvelous Molds
Some of you may have been lucky enough to get an early look at our new molds, and we've appreciated all your feedback. If you haven't had a look at these new clear green molds yet, read on!
Superior Consistency
Using this new silicone to make our molds ensures that every single mold will have superior qualities. It is stronger and more durable, meaning that with care, a Marvelous Mold will outlast most other tools, even with the constant bending, pulling, and stretching that comes with heavy use. It is firm enough to allow for a proper impression when the mold is filled with edible or non-edible materials, but it is also extremely flexible, making it easy to demold every time.
Temperature Resistant
Marvelous Molds made with our new clear green silicone will resist temperatures up to 400º Fahrenheit. This makes them ideal for molding edible materials like poured sugar, which can require high heat to properly mold. Along with their heat resistance, our molds can also be placed in a freezer with no effect on the mold itself, allowing you to chill your material before demolding if you wish.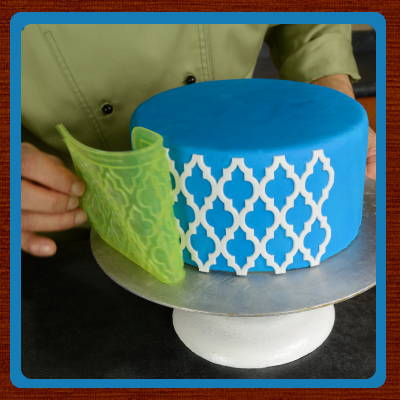 Food Safe
Before deciding on the new silicone, we did extensive testing at an FDA certified lab to make sure we gave our customers the best product possible, which included testing to make sure our new molds are food safe. You can use Marvelous Molds to mold nearly any edible material, such as chocolate, isomalt, fondant, gumpaste, marzipan, jello, ice, etc. Of course, just because they are food safe doesn't mean that they can't be used for other purposes as well; our molds also work very well with ceramic clay, polymer clay, soap, wax, salt dough, cold porcelain, plaster, and more. Please note that once you use your mold with a non-food-safe material, we can no longer guarantee that the mold is food-safe.
Unique
Some of our customers have noticed that our innovative products and intellectual properties have been copied by unscrupulous companies. We are proud to tell you that our new silicone is highly engineered and very difficult to copy, making it easier than ever to ensure that you are receiving an authentic Marvelous Mold when you place a purchase with one of our authorized distributors. Please note that some distributors may continue to carry the opaque molds until they are entirely out of stock on those products.
Easy to Fill and Check
Our new clear green molds offer a unique benefit: when you are filling your mold, you can turn it over to check and make sure you are pressing your material into all the details. This means you can get a perfect impression every single time, making some of the most beautiful and detailed designs on the market even better!
Easy Silicone Onlay® Alignment
The new clear green silicone has made our Silicone Onlays® even better. With the new onlays, you can easily line up your pattern on a cake. Even better, if you want to repeat the design around the cake, the clear green Silicone Onlays® make it easier than ever to line up the patterns next to each other and achieve perfection every time!
We are very proud to offer our customers the best molds we can produce. We are constantly finding new ways to improve our molds, and that includes creating and testing the best silicone available to create a superior product every time. We hope you enjoy your new clear green molds!

Frequently Asked Questions
Why are the molds still opaque in photos?
Unfortunately, for all the benefits of the clear green, it does have one downside: it's hard to see all our spectacular details! We're still photographing the molds in opaque green because it's easier to show you exactly what the mold looks like. We do, however, include an example of the clear green on every product page.
Have the molds changed in size?
Nope! These new clear green molds are exactly the same as the molds you know and love, just in a new color. No differences in the mold design!
Do I have to do anything different when I use these new molds?
Not at all! Our new clear green molds work just like the old opaque ones: dust them with a little cornstarch, roll out your fondant or gumpaste, press it into the mold, let our patented silicone blade cut the material for you, clean up the edge, and pop the perfectly molded piece right out onto your work surface. Same with the Silicone Onlays® – you can use these new clear Silicone Onlays® to apply the pattern directly to your cake just like the opaque ones (with the added benefit of being able to see through it to line them up!)