We're delighted to announce that our very own Chef Dominic Palazzolo, owner of Marvelous Molds® and inventor extraordinaire, won the prestigious Hall of Fame Award at this year's ICES Convention in Omaha, Nebraska.
This honor is awarded at the yearly banquet to an individual for his/her selfless contribution to the sugar arts by teaching classes, developing useful products or creating a new form of cake decorating.
For the past ten years, Chef Dominic has been educating cake decorators through hands-on classes, videos and demonstration of the versatility of cake decorating using molds. When Chef Dominic invented and patented both the cutting blade and Silicone Onlay®, he revolutionized the design of silicone molds providing cake decorators of all skill levels with time-saving methods to create professional looking cakes.
Chef Dominic is also the owner of Make Your Own Molds and is responsible for introducing easy-to-use, food-safe silicone for chefs and cake decorators all over the world.
ICES is an international organization of cake decorators who promote learning by sharing knowledge and uniting instructors with students at "days of sharing" in their local regions. Each year, ICES holds its convention in a new location in the United States, attracting visitors from across the globe who share the love of cake. Recognized cake artists offer classes in a wide variety of techniques, both new and classic, and students are offered the opportunity to become Certified Master Sugar Artists through on-site testing. Cake enthusiasts enjoy shopping for the latest cake decorating tools and observing free demonstrations in the vendor room. Extraordinary cakes of all kinds are placed on display in the cake gallery by decorators of all skill levels. And this year, ICES offered its first judged competition in celebration of their 40th anniversary.
2015 has been a great year for Chef Dominic. This past May, he was featured on the cover of Edible Artists Network Magazine where he shared the story of his career. He was also nominated for the Cake Masters Best Product Award for his Silicone Onlays®.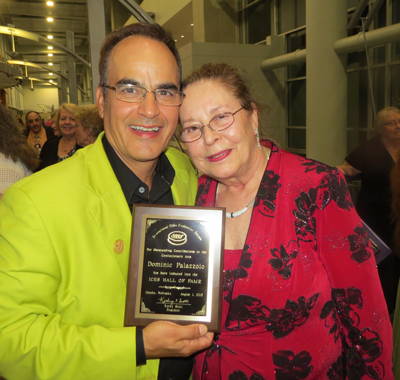 Chef Dominic Palazzolo with
ICES President, Fran Wheat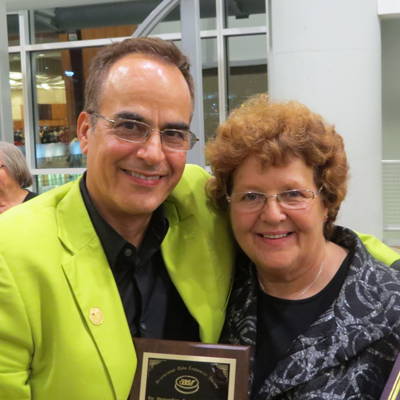 Chef Dominic Palazzolo and Kathy Scott