How to Use Silicone Onlays® - Step by Step Instruction Guide
Silicone Onlays® are a new tool invented in 2013 in order to transfer beautiful designs to almost any surface and are perfect for Cake Decorating and Arts & Crafts projects. As with any new innovation, it is important to learn how to use Silicone Onlays® in the proper manner in order to create fabulous decorations. This step by step instructional guide has been prepared to provide details and images showing the important steps to take when using this innovative 3D stencil.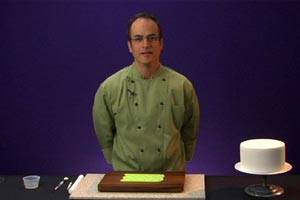 Cover cake with fondant or buttercream. If buttercream is used, chill until firm or allow to crust.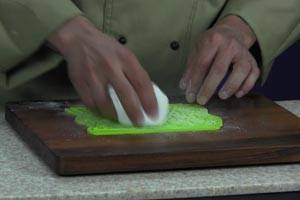 Lightly cornstarch your Silicone Onlay®.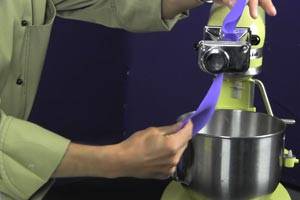 Stiffen fondant with tylose, CMC or powered sugar. Roll your fondant out to a setting of 2 on your Kitchen Aid Pasta attachment or 1/16 inch thickness using a rolling pin.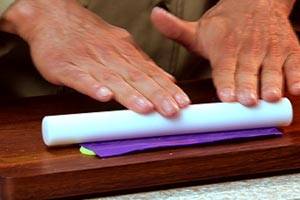 Lay fondant on the Onlay® & using light, quick strokes roll with a small rolling pin until trimming blades cut through the fondant completely.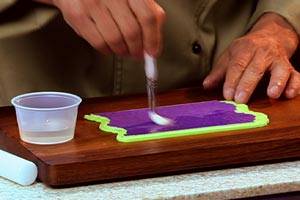 Remove excess fondant in the outer edge & brush adhesive evenly over fondant. Adhesive Recipe: 3 parts corn syrup, 1 part water.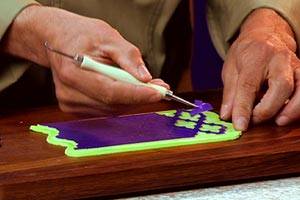 Remove unwanted pieces of fondant from the Onlay®.
Gently stretch the Onlay® on all sides to loosen the fondant.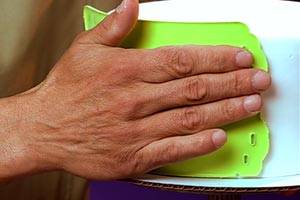 Align the Onlay® onto the cake & press gently on back of the Onlay® to get the fondant to adhere to the cake.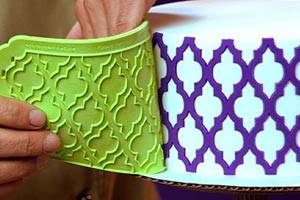 Carefully peel back the Onlay® from the cake, while ensuring the fondant has adhered to the cake.