Blue and Gold Wedding Cake Tutorial
Tutorial by Mark Desgrosseilliers from Morsels by Mark
In this blue and gold wedding cake tutorial, I'm going to show you how easy it is to make a stunning wedding cake that will wow your customers and their guests while saving you some time so you can see a bigger profit in terms of time-saving.
Turntable Fondant (white, blue, gold)
Tylose powder Disco Dust by The Sugar Art (gold)
Sterling Pearl Dust by The Sugar Art (Blue Belle, Super Pearl, Wedding Gold)
Elite Petal Dust by The Sugar Art (Royal Blue, Mona Lisa)
Foam paint brush
Blush brush
Fine detail brush (morselsbymark.weebly.com)
Sugar Glue (I thin down piping gel or clear corn syrup with water)
Confectioner's Glaze (and thinner for cleaning brushes)
Shortening
Corn Starch
Scalpel or exacto blade
Gum paste Garden Rose*
Prepared cakes (I used a 6×4, 8×6 and 10×4) 12" cake drum
1. Start by coloring your base fondant. To get the sapphire color I used, I started with blue fondant. Using Mona Lisa and Royal Blue Elite colors (about 1 tsp each) and 2 Tbsp vegetable shortening, I made a paste color that I added to the fondant and kneaded it in. This allows me to get a deeper color without having to use too much gel color and change the consistency. Mixing powder with shortening helps disperse the color more evenly and conditions the fondant at the same time.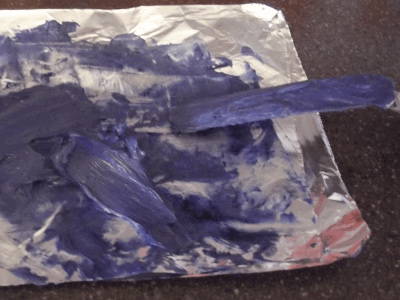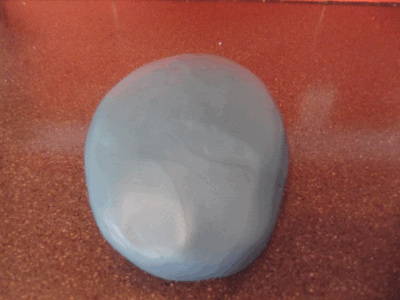 2. Allow the fondant to rest an hour or so, then cover your top and bottom tier in the sapphire fondant and the middle tier in white.
3. Using Blue Belle Sterling Pearl, a touch of super pearl and Mona Lisa Elite color, make a custom pearl dust to match your fondant. Place half of your dust in another container and set aside. Add enough vodka to make a wash (think the consistency of 2% milk).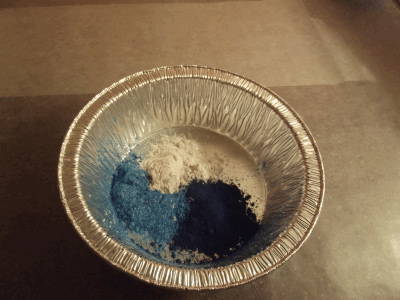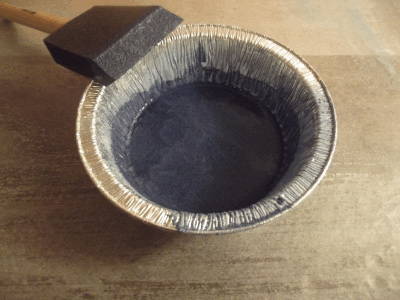 4. Place your bottom tier on a turntable.
5. Use a foam paint brush and give your cake a coat of the wash. Repeat for top tier and give each a second coat after the first is dry. Allow to dry to the touch.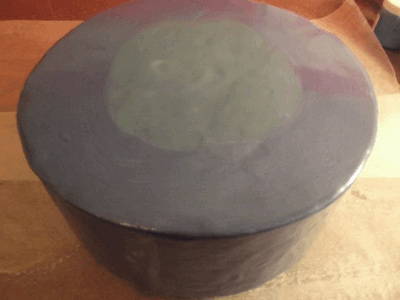 6. Load some sapphire dust on a blush brush and remove the excess. Apply to your cakes in a circular motion – this will help even out any brush strokes you may have.
7. Make gold fondant by starting with ivory fondant (1 lb) and add 3 drops golden yellow and 1 drop brown gel color (This will make painting gold very easy later on). Knead in 1 tsp tylose and set aside 1 hour.
8. I use a Kitchen Aid Roller to roll my fondant for my Silicone Onlays®; I like going to a 3 setting.
9. Place a piece of fondant onto the onlay that has been lightly dusted with cornstarch with the excess removed. I use my fingers to lightly get the fondant in place, then lightly press with a fondant smoother to get my pattern cut.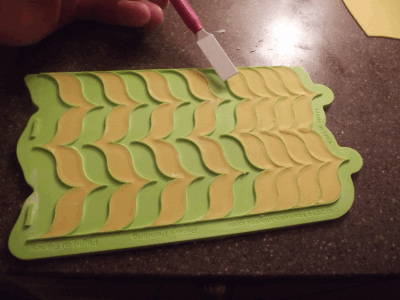 10. Use a sharp tool to remove the "negative spaces" from your Silicone Onlay®
11. Stack remaining cakes and secure with skewers and central dowel.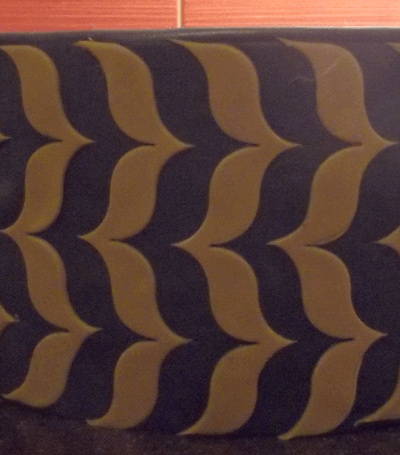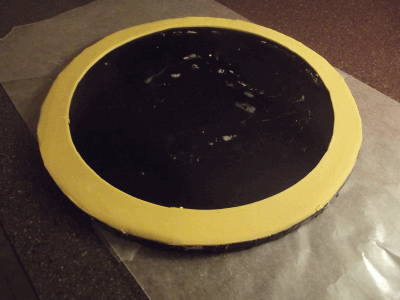 12. Brush a 1 inch perimeter of gum glue along the outer edge of your cake drum. Place a piece of rolled out gold fondant on top. Trim excess and remove center.
13. Brush fondant on board with gum glue lightly and apply gold disco dust. Remove excess and repeat until fondant is covered in glitter.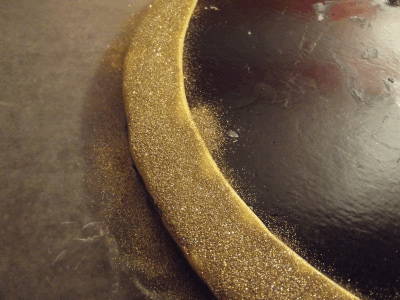 14. Spray glitter with spray glaze. Attach bottom tier using hot glue (If using real cake, your cake should be on a thin cardboard cakeboard).
15. Stack remaining tiers adding support with dowels as needed.
16. Mold decorations for the top tier using gold fondant.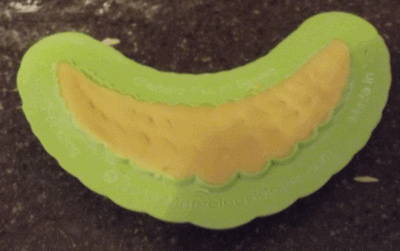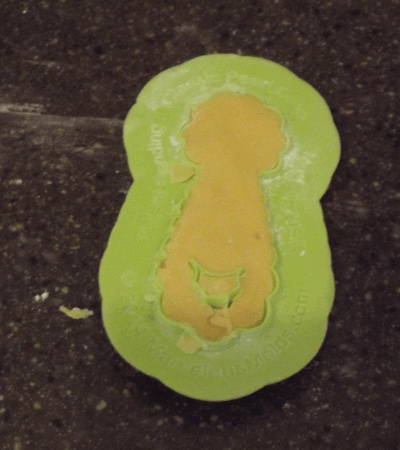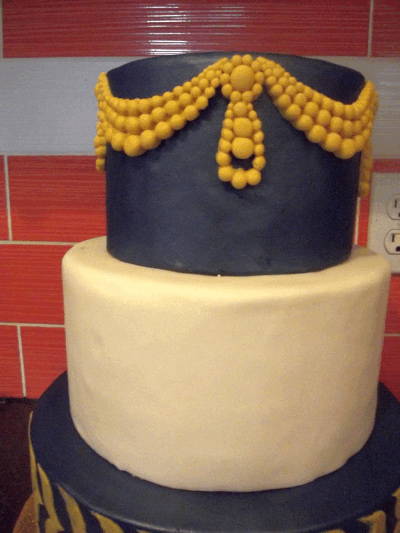 17. Attach to top tier by lightly brushing gum glue to the back of decoration.
18. To make a single strand of pearls, use a scalpel to cut the strands apart (I suggest letting the molded piece lay out on the counter for five minutes before cutting to let it firm up a bit)
19. Using Wedding Gold Sterling Pearl, add some confectioners glaze to make a paint (consistency of cream) and paint all of your gold pieces. I use an ultra-fine detailing brush to get into every corner of my pieces.
20. Finish your cake by adding some white sugar garden roses* highlighted with the gold paint.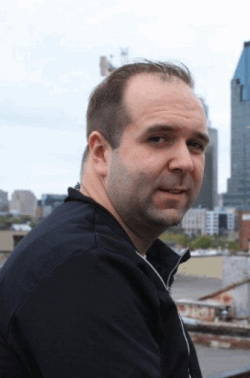 There you have it! A beautiful, 3 tiered cake that took very little time to make, but looks like you spent days on it!
This blue and gold wedding cake tutorial was created by Mark Desgrosseilliers from Morsels by Mark. *The roses are taught in his DVD Timeless Wedding Flowers. Mark is an award-winning Montreal based cake designer who is the administrator for the local chapter of the Canadian Cake Decorator's Guild. He loves sharing his passion for sugar and teaches internationally. Visit him online at: http://morselsbymark.weebly.com/